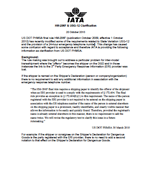 IATA recently published a document regarding the U.S. DOT PHMSA final rule HM-206F. Due to some confusion of accepting dangerous goods declarations by carriers and forwarders, the IATA document provides clarification on Emergency Response Information (ERI).
Essentially, a Registered Name or Contract Number with the Emergency Response Information must appear on the shipper's declaration if the original shipper's name (company name) does not otherwise appear on the shipping document.
For more information, please read the full guidance document published by
IATA on HM-206F and USG-12
.